Grandma Fish
I have been very blessed in the department of grandmothers. I don't believe I could have chosen better ones if given selection of the whole world. One I still have with me, and hope to keep so for a good long time. The other went home to be with Jesus on Christmas Day.
Grandma Fish was unlike any person I've ever met. She was clever and bold, and liked to shock people, in subtle ways. She was a talented artist, gifted at expressing her creativity through many forms. She was always very beautiful, no matter what she may have said to the contrary. And she was warm, loving, and fun.
I loved our childhood trips to Iowa, and the time we spent with her & my Grandpa there. We would stay with them a week each summer, and on shorter trips throughout the year. Grandma would cut our hair in her kitchen, and make us good food to eat. Playing on the tire swing, going to the Rocket ship park, and visiting the Whippy Dip are things I'll never forget.
Twice I got to visit her parents in the house she grew up in in West Virginia. It was such a beautiful place, settled in the heart of Appalachia. With fresh green things everywhere, and a little creek just outside the house. I know all parts of her childhood weren't as idyllic as the place she lived, but it was beautiful.
She had great stories, about going to school the day after causing mischief and wearing every pair of underwear she owned because she knew she was going to get spanked.
Or about when she was living in DC and had a repairman at her house ask if she was single, which she was. When he came back a couple of weeks later and asked her on a date, she told him she was married. She had met and married my Grandpa in the time in between.
Or how once she was the talk of the town in Waukon when she wallpapered her family room with a pattern covered in nudes.
She opened and operated a carpet store, restaurant, hair salons, clothing stores, used car lots, a furniture store, and was never afraid to try something new.
She bought and remodeled so many houses, I can't remember them all. She made them beautiful with her vision, and did whatever it took to get it done. If she wanted a wall knocked down, she took a hammer and did it. If there happened to be electrical wires in it, she'd call the electrician afterwards.
I hate to think I'll never go visit her again. Going to see her has always felt like revisiting my childhood. To be in her house with its cozy eclectic vibes that always has the same pleasant smell, and eat biscuits with apple butter. To have her take us to the S&D cafe to show us off to her friends.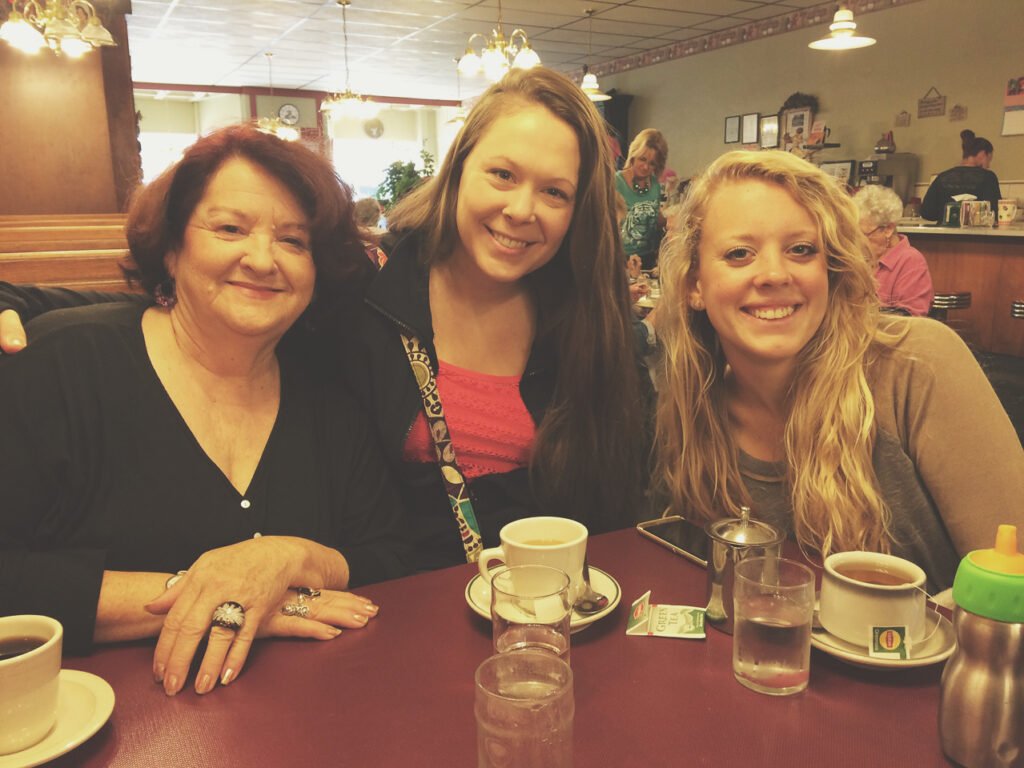 Visiting hasn't felt quite the same since Grandpa died 17 years ago. I always felt him missing, like he must be out to work but would be home for dinner.
She was so sad after my Grandpa died, she seemed like a different person. I'm so glad that the last years of her life have been filled with so much joy from watching my little cousins grow up.
Death is just so wrong. It's not how God designed things to be. Praise Him for his redemption plan for all creation, and praise Him that Grandma knew Him too.
There are only a handful of people in your life who know you and love you the way a grandparent does. Who care about you and what you do and think you're wonderful and love you no matter what.
I will miss her forever, but am so happy she's with my Grandpa again, in places even more beautiful than the best we could ever dream of here.