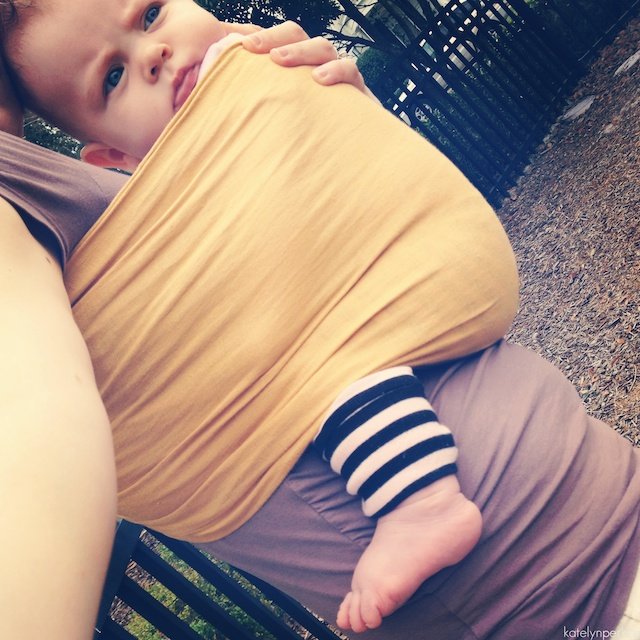 The Sling
If you've visited this blog before, then you've most likely seen our sling. We wear it everywhere – at football games, to the pumpkin patch, on a cruise, around the house, downtown, at Christmas. Here's a little more detail on the wonder and beauty of the sling 🙂
I had been looking at Sakura Bloom ring slings since Kaden was a newborn. When I was pregnant with Alia, it was on my wish list. I was contemplating getting one when they ran their semi-annual "sample sale" in August, but we were moving at the time and couldn't justify the cost when I had other baby carriers. I remember discussing it with Landon and him asking if I needed it. Was it a want or a need? At the time I thought it was a want. I'd been following The Sling Diaries and all the babywearing moms just looked so sophisticated and stylish with their slings, and happy and connected with their babies, I wanted one too. But for the time being I decided to pass.
Then when Alia was a month old, after trying other baby wraps/carriers with little success, I was extremely lucky & won a Sakura Bloom sling (actually two) on a Facebook giveaway from their company. And now I know: a ring sling is a need. I would choose my sling over a crib, stroller, baby monitor, almost any baby registry item besides maybe diapers & something to dress them in. I need my ring sling. If you have a baby, you need a ring sling. Here's a handful of why.
Alia is SO happy in her sling. When she's in a good mood she just enjoys it & when she's upset, it almost instantly calms her down. There was awhile when she was about 5-8 weeks old that she would just cry for hours every day. It was terrible. The sling was the only thing that helped. I tried it once on a whim when she was upset & was amazed how quickly she settled down and went to sleep. Then almost every time after when I put her in it, she responded the same. It's her safe, happy place.
Wearing her makes me happy too. Always really, but especially when my babies are tiny, I love to have them close. And since life goes on once you've had a baby, this keeps her close to me even while I'm making dinner, changing Kaden, cleaning, or whatever else the day brings.
It is the only way I can go to the store. Or park. Or church. Or on a walk. I put her in it, she happily rests and eventually falls asleep. Otherwise I'm holding her & have no hands free, or I'm not holding her & she's not happy.
It even makes going from our car to house easier, and gives me a hand free for this little guy 🙂
It's so adjustable – I can easily wear her in it or Kaden (when on rare occasion he doesn't want to walk – or run – himself.) And the next minute my sister or dad can wear it too. One size fits all – wearers & wearees (I may have just made that word up. But you know what I mean.) I look forward to wearing her in it for years to come.
More Tips:
This video really helped me quickly learn how to wear a newborn (links to other carry positions below.) It is so easy to use. Just a little practice & you'll be a pro (and I normally have a hard time with assembly-ish things like this. But really, this is easy.)
Linen vs silk: These are the two fabric types sold by Sakura Bloom, and it's really just a personal preference. I was lucky enough to win both and I love them both. They are like completely different carriers though. Linen is very light-weight and feels more like a baby wrap to me (I have a single layer linen. My friend has a double-layer and it is much heavier.) Silk seems sturdier and reminds me more of a baby carrier. It also feels a little dressier, although I wear it around the house a lot too. I will say living in Florida I'm very glad I have the linen sling as an option for when I'm going to be outside in the heat. I recently bought a Pixie sling as well (single-layer) and that's probably my favorite at the moment (maybe because it's new, I still use them all.) It's very grippy, breathable, and pretty!
The tail is a perfect blanket when you're out – it's so handy when I need to shade her eyes from the sun, keep her out of the rain, or shield her from the wind.
Correct positioning – I often found in the beginning I needed to make sure it was spread across my shoulder, not bunched up at the neck, that the ring was in the "corsage position" in the hollow below my collar bone & not lower, and that the fabric was spread wide across my back for support. I always remind myself when I put her in that the Sakura Bloom website states baby's head should be close enough to kiss. You can read more tips here, and check out Sakura Bloom's FAQs.
"Close enough to kiss" – he's seen mama do it 🙂
Kaden asked me if he could wear baby sister. He settled for pooh bear 🙂
Move – if baby is unhappy in the sling, make sure their position is correct, and then move around. Babies like motion. I read this suggestion on sakurabloom.com & it has proved so true. When Alia's upset & I put her in & then turn on some music and take big bouncy steps or dance, she goes right to sleep. Walking at the store always lulls her off too.
More helpful videos:
I find videos so useful when I'm learning something new like this.
More wearing positions.
Nursing in a ring sling (have yet to try this, but would be very handy!)
Babywearing positioning – great explanation of how & why a ring sling is so safe & wonderful.
How to thread your ring sling – they come pre-threaded, but good to know if you'd like to reverse a multi colored one, or switch wearing shoulders. This is easier than I anticipated too.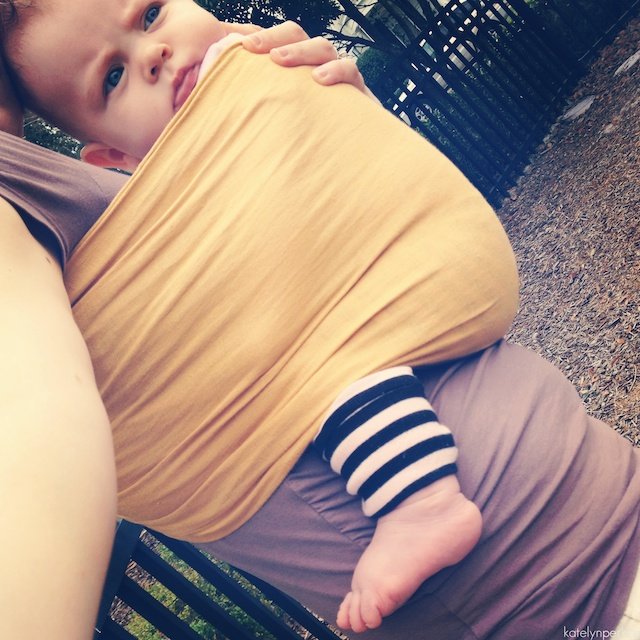 Hope this information was helpful for you! This was not a sponsored post, just some tips I wanted to share 🙂 Because seriously. I need my ring sling. You need a ring sling.