mama style
Casey Wiegand, along with 7 other mommy bloggers, is hosting a "mama-style link up", discussing a mother's wardrobe essentials. Sounds like fun, so thought I'd jump in 🙂 Here's my thoughts.
Style and motherhood is something I've been wresting with a lot lately. When many days I don't even leave the house it can feel silly to put a lot of effort into my appearance. But then on the other hand I do not want to just give up and surrender to wearing sweats forever. For me, ideal mama style is the perfect marriage of function and pretty.
My favorite quote on the subject, which I read several years ago but still think of often, is from Elizabeth of the littlest, talking about how having her daughter changed her style:
"i imagine the way she sees me and it makes me want to put on a flowy dress or a vibrant print. i always think about the memories i am creating with my family. my husband says i live too much in a fantasy land…'and i remember my mother, the bustle of her skirts, the song she sang and her honeysuckle perfume.' but she is a part of my story and i am a part of hers."
Life is worth it. No matter if my two little kiddos are the only ones who see me all day. It's about feeling good. Going with the flow of the day. And pretty feels good.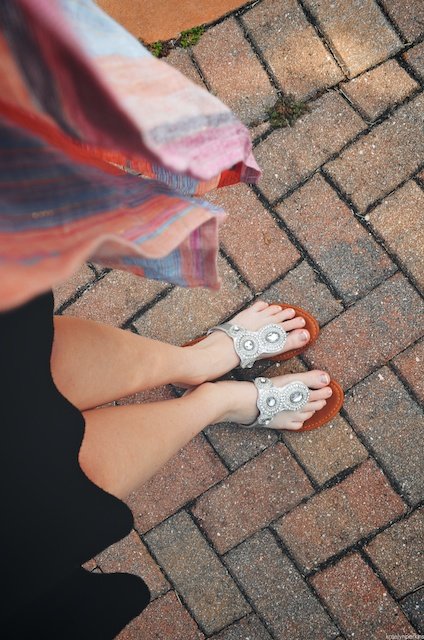 My 3 mama style favorites are earrings, because they're so simple but still make me feel pretty and "dressed", sparkly flip flops, because I'm really past heels & they are so much more fun than plain flip flops, and a ring sling, because I realized the other day that it really doesn't matter what I wear since I'll be wearing a baby over it, so it's really nice to have a pretty sling.
Feather earrings from Fashions by Faith on etsy, shoes from Marshalls, & sling by Sakura Bloom.
Favorite runners-up would be this bralette, which can totally work as a nursing bra but unlike many, is not ugly, and a hot shower 😉
Do you have favorite mommy-style items?